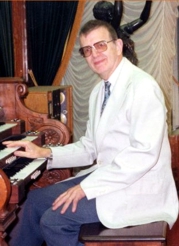 For more than 50 years Victor Searle served as a music educator, organist, composer-arranger, choral and instrumental conductor at universities, churches, and civic organizations throughout Japan.
A native of Oklahoma, he arrived in Japan as a teenager when his father was assigned to Gen. MacArthur`s staff. After graduating from the University of Oklahoma with degrees in organ and opera, Mr. Searle returned to Japan accepting an appointment as university organist, professor of music, and director of the famed male choir at North Japan University.
From 1960-2002 he served the music faculty of Nihon University after finishing graduate work at Westminister in Princeton, NJ. His arrangements of African-American spirituals and Japanese folk melodies gained wide acclaim and are performed by choirs throughout Japan.
He was a respected consultant for organ installation and restoration, personally renovating the historic Mitsukoshi organ. His teachers and mentors included Robert Shaw, Mildred Andrews, Dame Eva Turner, Giuseppe Bentonelli, and John Finley Williamson. Additionally, he served as interpreter for Leonard Bernstein, Maria Callas, Alan Hovhaness, Aaron Copland, and Virgil Thompson and other great musicians during their visits to Japan. Mr. Searle made numerous appearances on national television.
We are sorry to share that Vic Searle passed away in late 2012 – we shall miss him and his quick wit, his zest for life, and his continuing commitment to the organ and its music. Rest in peace, friend.
The Victor Searle Lent & Easter Folio | Print: $29.95 | Click to order
When I was first asked to assemble a book of music suitable for Lent and Easter, I was very hesitant. Unlike with Christmas, I couldn't think of many pieces which would serve Lent and Easter. But in leafing through boxes of music, I discovered a number of works which I had performed many times during my sixty years on the bench. A number of them are practically unknown today, so I thought to re-introduce them to modern-day organists.
The "Triumphal Entry" is quite long, but you can begin at Part Three.
"Paques Fleuries" used to be a popular Palm Sunday prelude, and I am sure that some of your elderly parishoners will be happy to hear it again.
The next four works are standard Lenten fare. They are still more or less popular. "A Lenten Meditation" was written in 1909 by my first organ teacher, Harvey B. Gaul, a name unknown to most organists today.
"Easter Morning" is a description of the newly risen Christ and the joy of the women who discovered the empty tomb.
The next two pieces are practically unknown but express the joy of Easter. "Sing unto God" is from Handel's "Judas Maccabeus." "Mighty Lord" is absolutely unknown today, as it is from the Oratorio "Saint Ludmila" by Dvorak. But it is a great chorus, and a fitting close to any Easter service.
I hope you will enjoy playing these works and that your congregations will be inspired by them.
Victor C. Searle Feb. 8, 2011
The Victor Searle Christmas Organ Folio |Print: $29.95 | Click to order
Most of these works are not too well-known; and at this writing (fall, 2009), almost all are unavailable anywhere else. Holst's CHRISTMAS DAY and Berlioz's SHEPHERD'S FAREWELL are beloved by choirs, but not available as organ solos. Although the only thing Christmasy about GRANDE OFFERTOIRE-NOEL is the title, this unabashedly Romantic work has always been well received by congregations. In addition, I have shamelessly included two of my carol fantasias which, I warn you, will require quite a bit of pedal practice!
I hope you will enjoy playing these works, as I have for the past 65 years, and will add them to your repertoire. And a very Merry Christmas to you all.
Victor C. Searle (a.k.a. Yoshihisa Fujise, my naturalized Japanese name)
3 Japanese Melodies | Print: $10.73 | Click to order