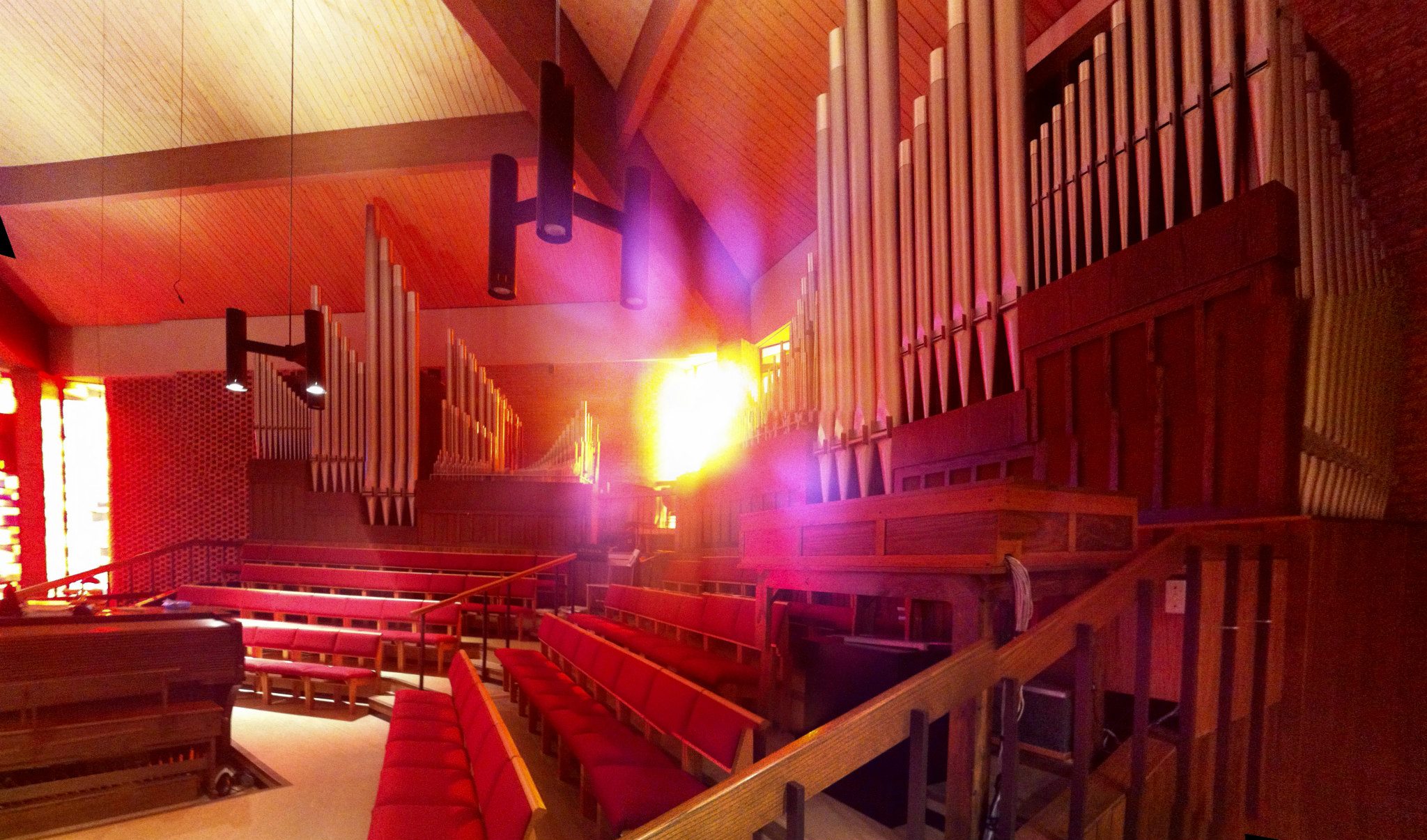 After the organist at this church purchased one of my sample sets, I contacted him to see if he would be interested in having this organ sampled, since the church is about 15-20 minutes away from my location.  The instrument is in great shape, regularly maintained and much loved by the congregation. I did some test recordings in December of 2015, then eventually scheduled the recording sessions for September-October 2016.
The organ was recorded at 24-bit/48kHz in 4 channels, but during production and testing we found that the gentle acoustic of about 1.5~2 seconds of reverb really didn't warrant the extra work of creating a surround version – the effect was not noticeable.  So, we instead chose to use a mix of the 4 channels to give a good impression of the space. A mostly dry version utilizing just the front 2 channels is available by special request for public installation or for those who want to add their own reverb.
This organ is intended to be a replacement for our venerable Schantz from FBR, released first in 2004 for HW 1, then updated in 2006 for HW 2.  We no longer have access to that instrument, so there is no chance to go back and record it in better resolution and with better editing and noise reduction techniques.
We hope you enjoy this instrument, it is a colorful and articulate organ, great for both practice and performance.
Demos
---
Type: American Classic
Format: Hauptwerk version 4.21+
Recordings: 24 bit 48 kHz
Default Memory Requirements (Wet): 2.37GB (16bit) 4.64GB (24bit)
Keyboards/Stops/: 3/50
Works with Free/trial edition?: partial load
$149
---
Stoplist
Great
16    Pommer
8      Principal
8      Rohrflute
4      Octave
4      Spitzflute
2      Superoctave
IV     Fourniture
8      Trompete
8      State Trompete
8      Krummhorn (CH)
GT to GT 16, 4, Unison off
Pedal
32    Resultant
16    Principal
16    Subbass
16    Pommer (GT)
8     Octave
8     Bass Flute
8     Pommer (GT)
4     Choralbass
4     Nachthorn
IV    Mixture
32   Contra Fagot*
16   Posaune
16    Fagot
8     Posaune
8     Fagot
4     Posaune
Great to Pedal 8, 4
Swell to Pedal 8, 4
Choir to Pedal 8, 4
Swell
8      Bourdon
8      Viole
8      Voix Celeste
4      Prestant
4      Flute Harmonique
22/3  Nazard
2     Flute a Bec
III    Plein Jeu
16    Fagot
8      Trompete
8      Fagot
4     Clairon
Tremulant
SW to SW 16, 4, Unison off
SW to GT 16, 8, 4
SW to CH 16, 8, 4
Choir
8      Holzgedekt
8      Gemshorn
8      Gemshorn Celeste
4      Principal
4      Koppelflute
22/3  Nasat
2      Principal
13/5  Terz
11/3  Quinte
8      Krummhorn
8      State Trompete
Tremulant
CH to CH 16, 4 Unison off
CH to GT 16, 8, 4
*Stops that have been added using existing material (revoiced or borrowed)