Symphonie pour orgue
| Click for PDF copy $15 | Click for Printed copy $21.09 | Hardcover edition $26.16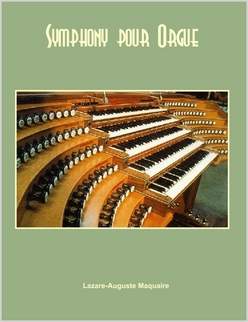 Lazare-Auguste Maquaire was a student of and assistant to Charles-Marie Widor. This is his only published organ composition, a Symphonie for Organ written in the early 1900's. Although obviously inspired by the symphonies of Widor, Maquaire's single work is much more tightly constructed than Widor's early works.
Forgotten for many years, this pieces has recently made a comeback to the repertoire of some very famous recitalists. Some of the responses to hearing this piece have been "WOW!" and "How come no one plays this piece?"Check out the full-length recorded clips below, and hear for yourself.
This edition was prepared by Richard White and Jonathan Orwig.
---
1 – Allegro
2 – Andante
3 – Scherzo
4 – Final