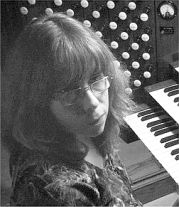 Born in Quebec City in 1961, Edith Beaulieu was admitted in 1980 to the composition class at the Quebec Conservatory of Music where she studied with Armando Santiago and Pierick Houdy. In 1982, she started her organ studies in the class of Noëlla Genest. After being awarded prizes in composition  (among them a First Prize in harmony), she attended master classes given by Mireille Lagacé, Lionel Rogg, Dom André Laberge and Denis Bédard. In 1988, she was awarded a First Prize in organ.
In 1990, she earned a Master's degree in organ performance from McGill University under the supervision of John Grew. During that period, she attended supervised lectures given by Michael Radulescu and Harald Vogel. She was awarded four class distinctions, including the Henderson Scholarship, an art proficiency grant, and the FCAR grant allowing her to continue with her studies at the Liège Conservatory (France) with Jean Ferrand. She attended lectures in Yugoslavia, Walloon and Montreal given by renowned artists such as Bernard Foccroule, Daniel Roth, Jean Boyer, James Christie and Olivier Latry.
After giving recitals in Quebec and in Belgium, she performed in the "Young Artists" series on the CBC French network. She performed her own compositions in the "Alternance" radio series and the "Young Composers" series. She is a regular performing artist at the Artists' Mass celebrated in the Good Shepherd Chapel, Quebec City.
Among her compositions, there are many pieces for piano, a Hymn to Blessed Marie de l'Incarnation set for four women voices and organ (1980) commissioned by the Ursulines Nuns, a work for choir and string quartet based on Charles Beaudelaire's poem "Recueillement (Meditation)" (1982), a Divertimento for clarinet quartet (1982), an Impromptu for piano (1982), an Andante for wind quartet (1982), and a Mass set for four mixed voices. In August 2000, she completed her First Symphony for organ, a large five-movement work.
Scores
Symphonie 1, op. 3 no. 1 | Printed copy $35 | Click to Order or Preview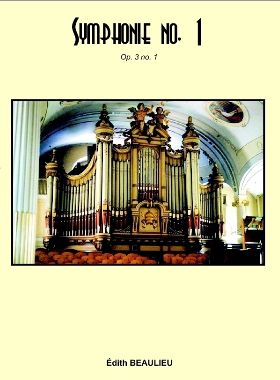 1 – Introduction et Allegro
2 – Cantabile
3 – Scherzo
4 – Adagio
5 – Toccata
---
Heures Dominicales | Printed copy $21.99 | Click to Order or Preview


1 – Elegie
2 – Scherzetto sur "O Filii"
3 – Communion
4 – Toccata
5 – Berceuse