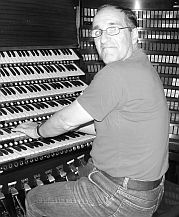 ---
Organ Symphony
This work is an Organ Symphony in 5 movements after the French style. Composed for the 40th anniversary of employment as a "Kerkmusicus" of Ludo Vugs a friend of the composer. The Symphony is built up entirely on two motives, first the name of the dedicatee (La Ut Do F Ut G Es/Ges) and an Indian raga (Lacchasack raga) which has a melody of 40 beats, one for each year of service to the church. The work lasts approximately 30 minutes.
1st mvt. a Fantasia in Free Variation form without a "Theme" using the name melodically and harmonically
2nd mvt. Adagio
3rd mvt. Sortie in the style of Lefebure-Wély
4th mvt. Aria on a Ground, the name theme is used harmonically as a ground bass with an independent melody which reverses at halfway in a mirror motion
5th mvt. a Toccata in rondo form using both themes.
---
Print: $35 Click to Order